Climate as Core | Arabesque Asset Management
(1) Why do we need another Climate solution?
We do not really. But we do need core equity allocations to start integrating climate considerations into their investment processes.
Whilst we do not dispute the importance of thematic climate funds offering exposure to niche areas such as wind, solar or other environmental solutions, we feel their importance has been over-emphasised by the investment community in the search of 'sustainable alpha' and asset raising.
The transition to Net-Zero is not something solely impacting a handful of companies as the concentrated holdings of many traditional climate funds would suggest. Systemic change across all geographies, industries and business activities is required if we stand a chance of meeting goals set out by the 2015 Paris Agreement. Resultantly equity allocations, not just thematic climate funds, will be required to integrate climate risks and opportunities into their investment processes.
(2) Why Arabesque's Climate Pathway strategy?
Climate change is a global issue affecting all regions and industries. Rather than addressing it through thematic niche investments, we suggest moving towards strategies that provide investors with a holistic approach.
The Arabesque Climate Pathway strategy is designed to be a global core equity allocation. Not only does it allocate capital to those businesses driving the low-carbon transition, but it also seeks out businesses across sectors and regions that have made independently reviewed commitments to reduce their carbon emissions in line with a 1.5-degree warming scenario.
The strategy employs a rules-based process that blends traditional factors with some of the latest advancements in environmental and climate data. The outcome is a globally diversified portfolio across sectors and regions with attractive environmental credentials (© Arabesque Asset Management).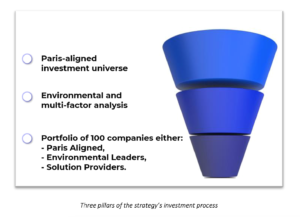 The strategy is also able to report on a variety of environmental and climate metrics that meet standards set some of the most stringent climate regulation coming out of the European Union.
(3) Who is Arabesque?
Arabesque Asset Management is an evidence-based sustainability manager focussing on smart integration of ESG data across its investment product suite. ESG data from our sister company, Arabesque S-Ray is leveraged across our strategies, and we are also able to benefit from in-house subject matter sustainability experts.
Our mission is to mainstream sustainability and deliver long term value creation via our investment strategies. Established in 2013 after a management buy-out from Barclays Bank, Arabesque's story is one of a partnership between leaders in finance, mathematics, and sustainability working together to deliver a new approach to capital markets. Headquartered in London, Arabesque Asset Management operates across Europe and has offices in Boston and Singapore.
| Based on information provided by Arabesque Asset Management. This is not a sponsored statement. 
https://global.investrfp.com/wp-content/uploads/2022/06/investrfp-logo-white-300x34.png
0
0
investRFP
https://global.investrfp.com/wp-content/uploads/2022/06/investrfp-logo-white-300x34.png
investRFP
2021-07-14 21:05:09
2021-07-15 10:52:14
Climate as Core | Arabesque Asset Management